Beyond its core expertise on bone and joint samples, Atlantic Bone Screen proposes a large range of histology services in the field of inflammation, in oncology, in dermatology, in neurology… covering the whole process of histology, from samples collection to image analyses and histopathological analysis by our in-house board-certified vet' pathologist.
Atlantic Bone Screen can support you at any step of the histology process with routine and special stains.
ABS has also an experience in immuno-staining (IHC, immunohistochemistry, and IF, immunofluorescence) with protocol development for new markers and a catalog of validated protocols for various targets.
All the needed equipment and machines are available on-site in order to process any kind of organs and tissues and thus ensure quality and traceability: embedding, cutting, mounting and staining / immunostaining, digitalization (Nanozoomer)…
Tissues from animal species or human can be processed in paraffin/resin/frozen:
Necropsy, Tissue collection
Processing of your
samples


- Resin
- Paraffin
- Frozen

Staining / Immunostaining


Staining, IHC immunohistochemistry, IF Immunofluorescence
DATA ACQUISITION AND IMAGE ANALYSIS


Histology, histomorphometry and Image analysis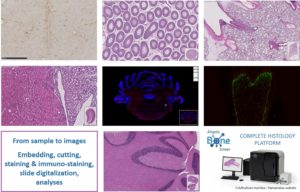 See more on our histology services:
EXPERIMENTAL HISTOLOGY >
TOXICOLOGIC PATHOLOGY >
---