To answer its Customers' needs, Atlantic Bone Screen has developed a platform for image analyses with different techniques, microscopes and software to manage and analyze the images and efficiently characterize the effect of the compounds tested for our Customers. Most of the time the techniques give complementary information and the use of 2 or 3 methods in parallel consolidates the data and can help in the confirmation of the conclusion of a study:
MICROSCANNER USE FOR 3D ANALYSIS
RADIOGRAPHY USE FOR 2D ANALYSIS
MICROSCOPY
---
MICROSCANNER USE FOR 3D ANALYSIS
Steps of microCT analyses= Acquisition – Reconstruction – Analysis
Acquisition: image acquisition of bone sample using the high-resolution X-ray micro-CT system for small animal imaging SkyScan-1076.
Reconstruction: image data are transferred to a workstation and the full data set is reconstructed as a series of 2D binarised cross-sections using the SkyScan analysis system.
Analysis: from reconstructed images, qualitative and quantitative analyses can be realized on virtual slices, directed in 3 plans of the space.
This method can be used for example for the evaluation of bone loss in osteoporosis model: specific information can be acquired and then analyzed and compared to standard data and to other groups of animals: bone volume fraction BVF (%), bone mineral density BMD (g/cm3), Trabecular thickness (Tb.Th, mm), Trabecular number (Tb.N, mm-1), Trabecular separation (Tb.Sp, mm), Trabecular bonepattern factor (Tb.Pf, mm-1), structure model index (SMI)…
More globally, the evaluation of bone architecture of different bone specimens is done by microCT and is a very good way to visualize and quantify the effect of a compound, biomaterial, nutraceuticals on the global bone architecture.
The analysis by microCT is a non-destructive technique for the sample which remains usable for other tests: histology or biomechanical tests.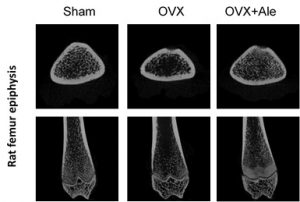 Example: Osteoporosis model induced by ovariectomy
RADIOGRAPHY USE FOR 2D ANALYSIS
Ultra-high resolution x-ray imaging is a key tool used to investigate the structural aspect and changes in specific pathologies.
As far as the system "Faxitron" is installed into the animal facility, it protects the integrity of the animals and enables to manage X-ray analyses all along the study and visualize the evolution of the bone structure. Phenotyping, bone regeneration or tumor growth can also be observed.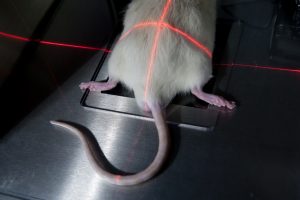 MICROSCOPY
Transmitted light and fluorescence microscopy
Digital Slide Scanner
Confocal microscope
---